2020 Remote Internships Scholarship
#GoGlobalFromAnywhere
At Absolute Internship, we want everyone to get the opportunity of getting a head-start to their professional career. We remain committed to providing life-changing online opportunities for young, aspiring individuals.
We began our scholarship initiative to ensure that the most talented and driven students and graduates are provided with an opportunity to thrive, regardless of their financial situation. Consequently Absolute Internship is launching 10 fully-funded scholarships to support students around the world get a guaranteed remote internship placement.
5 GENERAL SCHOLARSHIPS
50% of our scholarships are open to any and all students wishing to complete a remote international internship. In applying to this scholarship you will be asked to submit a video application answering the following questions:
Why are you interested in completing the Remote Absolute Internship Program?
How will this scholarship help you get closer to your career goals and professional development?
Why should you be the one to receive this scholarship?
5 INCLUSION SCHOLARSHIPS
In alignment with Absolute Internship's Corporate Social Responsibility, we have reserved 50% of our scholarships for students who identify with communities less represented in the international higher education, including but not limited to students with disabilities, LGBTQ+ students, minority ethnic students and foster communities.
You will be asked to complete additional questions proving your active involvement within your community.
Eligibility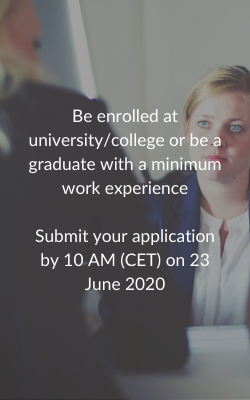 Criteria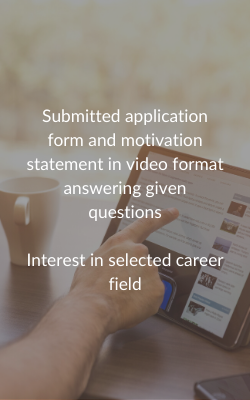 Requirements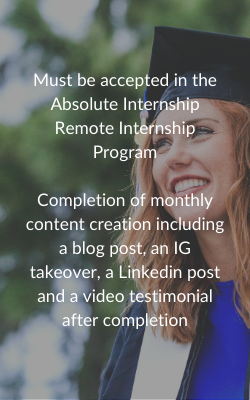 Scholarship Application and Winners
Applications for the 10 Remote Internship Scholarships will officially open May 11th, 2020 at 10:00 AM CET and close at 10:00 AM CET on June 23rd 2020.
All completed applications will be reviewed by 2 internal scholarships judges, awarded based on the criteria set out above.
Application review: June 24th-28th, 2020
Scholarship winners announced: June 30th, 2020 - All scholarship winners will be officially informed by email on June 30th, 2020.
Scholarships for International Education Week
AI Remote Scholarship Awardees
AI In-Person Scholarship Awardees